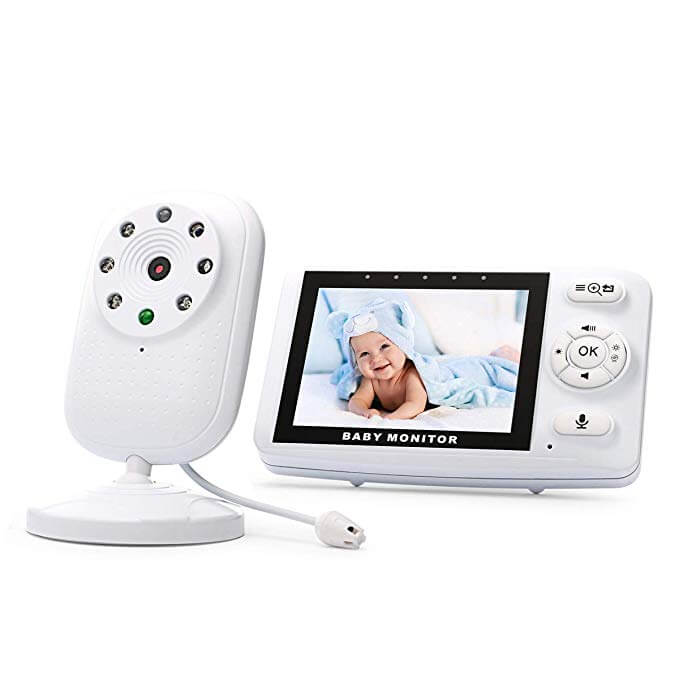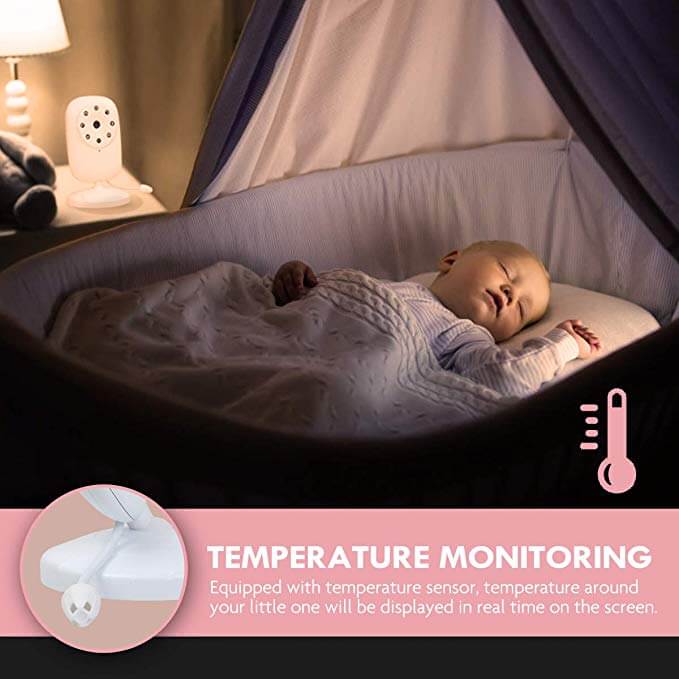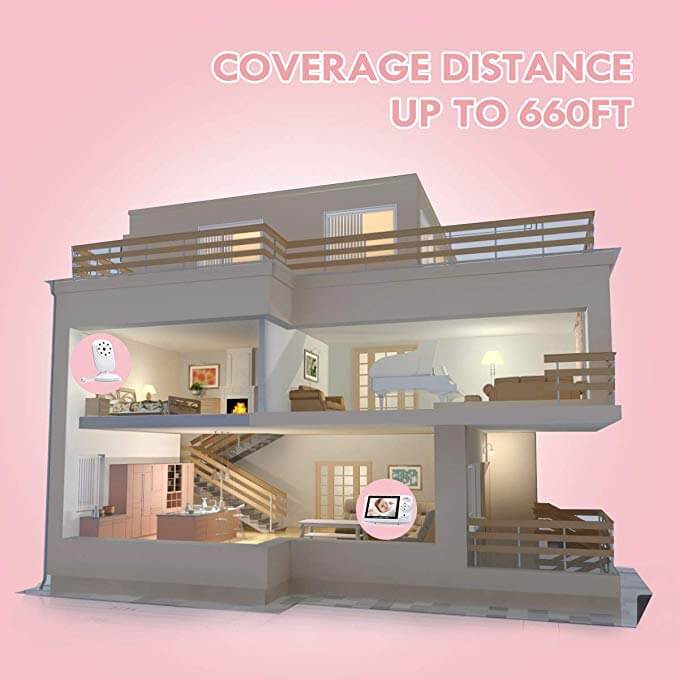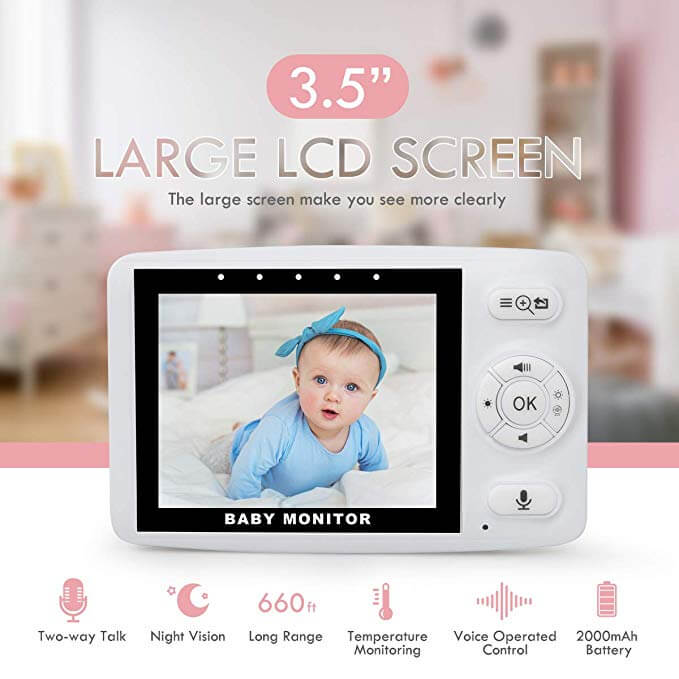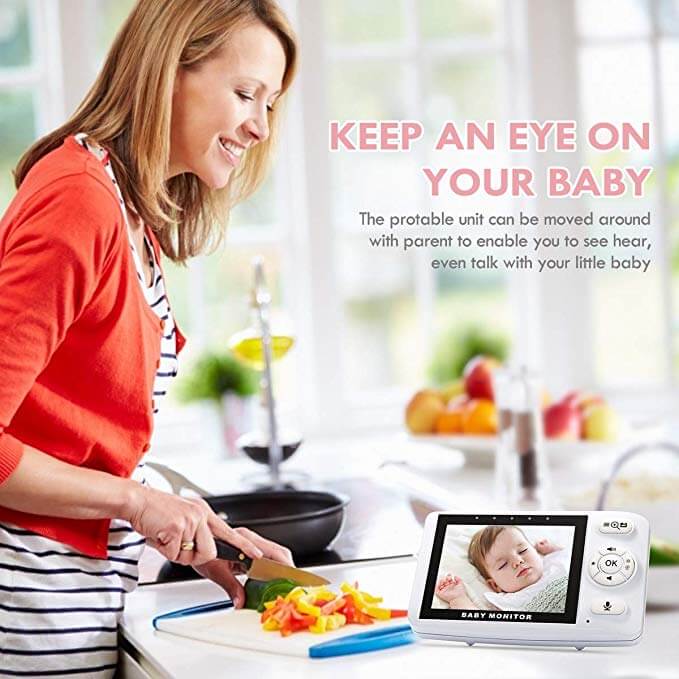 LCD Type

TFT

LCD Screen Size

3.5″

Transmission frequency

2.4GHZDigital RF modulation

Receiving Sensitivity

≤-85dBm

Power Adapter

DC 5V/ 1000mA

Transmission distance without block

100m

Image Sensor

1/4″ OmnVision CMOS

Horizontal Definition

380 TV line

Minimum Illumination

0Lux

Infrared LED ON

5LUX(IROFF)

Night-vision distance

5m

Product Feature

1.Digital RF modulation with frequency hopping.

2.Dynamically select clean channels to avoid interference from other 2.4GHz devices.

3.Baby camera with temperature detection function and real-time display in the LCD Monitor.

4.Support music player,play sleeping music to help baby to sleep.

5.Date privacy protect(suppor user ID recognition).

6.With high resolution 4.3″ LCD display screen.

7.Bidirectional transmitssion and suport data encrypt.

8.Night Vision(Effective range:5m).

9.Built-in microphone in camera & speaker in receiver.

10.Built-in Li-Battery with receiver and camera.

11.Up to 100mtransmission range in open space.
In the history of the baby monitor industry, 2.4G digital baby monitors and 40/49M baby monitors occupy the main part. Since the 1980s, the 40/49MHz baby monitor production industry has basically adopted more than ten MHz crystal oscillations and then tripled the frequency to obtain the operating frequency. The advantages of this solution are simple technology and low cost, but the 3 doubling frequency leads to the circuit There are a lot of unnecessary harmonics and fundamental waves in it. In order to filter out the unwanted frequencies, the desired frequency is usually selected by means of mid-cycle tuning. Therefore, production and debugging are complicated, with a high defect rate, and one crystal is required for one operating frequency. For monitors with multi-channel selection, multiple crystals are required, which increases the production cost and the complexity of mid-week tuning. With the rapid economic development, the rapid upgrading of electronic products, and fierce competition among industry enterprises, product cost control has become an important threshold for consumer electronics. At present, the foreign baby monitor industry is relatively mature and widely used, with well-known brands such as Angelcare.
Compared with 2.4G digital baby monitors, 40/49M baby monitors have a huge cost advantage, which makes them always occupy a large proportion of the baby monitor market, but because most of the chip design companies' products are aimed at the RF market Therefore, products that can be applied to 40-49MHz baby monitors are rare, the MCD2006S chip, which is similar to the situation not only in China but also abroad. The current domestic better solution is to use phase-locked loop chip technology, well-known brands such as Maxic. The result of using this technology is to simplify the production and debugging of the baby monitor, improve the production yield, and solidify the ROM and RF power amplifier functions of the 40/49MHz baby monitor commonly used frequency points.